Baby's first Christmas can be one of the most cherished Christmases that you, as a parent will have. You trim the tree, wrap the gifts and make the eggnog, but this Christmas is different from other years. In these formative stages of life for your newborn, you see your family's future beginning to take shape. These are times of hope and anticipation, and life's new beginnings. This precious moment in time will never come again, so carpe diem! (with both hands) and make Baby's First Christmas special for the whole family.
Here are five simple ideas to make baby's first Christmas unforgettable. Plan ahead and create Christmas memories that last forever.
Baby's First Stocking
What is it about Christmas stockings that makes us feel all nostalgic inside? Perhaps it's the remnants of tradition that linger when we imagine all the stockings that have been hung above fireplaces across the land for so many decades. Maybe it's their distinctive shape and the way they are decorated that conjure ideas of their history. Perhaps it's just that we had them when we were children and Christmases past are those we look back on most fondly.
In the years to come, your child will think back on Christmases just like you do now. Make or buy a cute stocking for your little one and have his or her name embroidered on it. Use it while your little one is a baby then upgrade to a toddler stocking, but be sure to clean and preserve the baby stocking for when your child is an adult.
Make a Christmas Movie
Christmas home movies help us to recall the excitement and wonder that came from presents under the Christmas tree, the smell of pine and the glow of blinking lights from the living room. Time spent with family is so precious and the memories of these special moments remind us to reconnect with family as adults.
A DVD of baby's first Christmas will be something you will cherish as much as your grown-up child will. Capture baby's joy when you unwrap Tickle Me Elmo, and video him or her drinking their first eggnog (sans rum, of course). Your Christmas DVD should include footage of the whole family, even if there are only three of you. Take turns as the film director and be sure to capture all of the Christmas traditions, from trimming the tree, stocking opening, present unwrapping, a little Christmas feasting, and end with putting your little angel to bed after a big day.
Baby's First Christmas Ornament
When your child is big enough to help, trimming the tree will be one of his or her favorite Christmas traditions. Silver bells, tinsel and a star or angel at the very top of the tree are some of the delights that await your little one. Buy or make an ornament that signifies baby's first Christmas and hang it year after year on the tree. There are many ornaments available that are especially for baby's first Christmas. Have the ornament personalized with baby's name – an especially practical choice if baby has siblings!
Store baby's first ornament carefully between Christmases, and when you child is an adult and starting a family of his or her own, pass it down to adorn that new family's tree.
Santa Suits and Cute Christmas Long Johns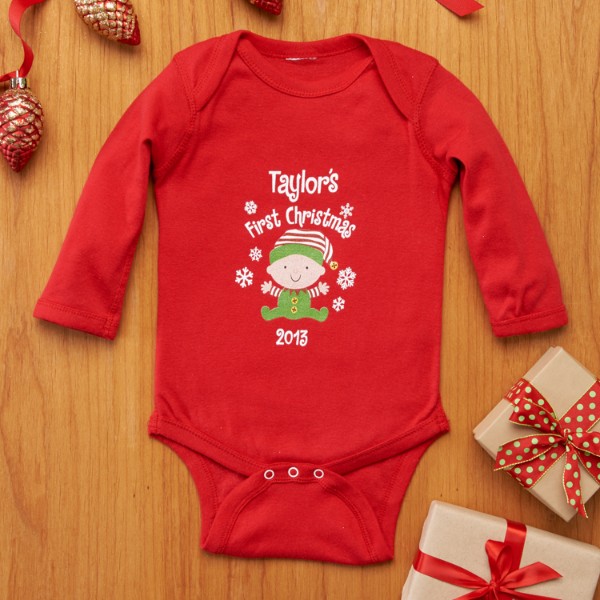 Buy those adorable little onesies that read: "Baby's First Christmas", then keep them forever. Take pictures with your darling snuggly wrapped up in Christmas clothing and show them to your child when he or she is old enough to appreciate it. Personalized long johns with your baby's name on them are a great idea to ensure you don't get siblings first Christmas suits mixed up.
A few super cute outfits are essential for Baby's First Christmas. Your photo essay should begin before bath time, with baby dressed in his personalized Christmas long johns and bed head hair. Then, for present opening, dress up in a Santa outfit complete with little hat and booties and get plenty of footage of baby Santa crawling all over Papa Santa's gifts before he distributes them to other family members. Finally, no Christmas is complete before the third costume change, which can be anything from personalized onesies, to a fairy dress, as long as it's festive and as long as you get lots of photos.
Your baby can get wear out of Christmas clothes for all the twelve days of Christmas, and since they won't fit your baby next year, they'll be in great condition for storage. Clean them very well and put them in a keepsake box in white tissue paper (don't use colored tissue as it may discolor the fabric of the clothes over time). Store the clothes somewhere dry and dark, in a box that weevils and moths can't get into!
Baby's First Christmas Gift
Make baby's first gift a keepsake. Have a silver bangle engraved with you baby girl's name, or do the same with a pewter cup for your baby boy. A silver baby spoon and sippy cup are also great gifts for newborns. These are the gifts that last a lifetime. Since baby is blissfully unaware of the reason for this fun-filled day of sparkling lights and happy faces and yummy smells from the kitchen, baby's first gift will be more important when he or she is grown up, so choose something classic, that will last for years and that can be given to your adult child as a kept family heirloom or keepsake.
Make Baby's First Christmas a beautiful day that you and your whole family will enjoy and cherish. Put a little extra effort into the decorations and make Christmas dinner a feast to remember. Play Christmas music that you love and enjoy spending time with family. Savor these moments and don't forget to sit back and take it all in.