A bridal shower is traditionally known as the event where the bride-to-be's friends shower her with gifts that will prepare her for married life. In the past, this meant kitchen appliances and all sorts of household products, but let's face it, most of today's women are more concerned with their careers than playing housewife. If your friend is anything but domestic, perhaps your bridal shower gift can be a departure from the established norms for something that she will truly treasure. Whether you choose keepsakes or something that she can decorate her home with, it will surely be appreciated on her big day. Consider a few of these ideas when you're shopping for the new bride.
A stainless steel wine chiller.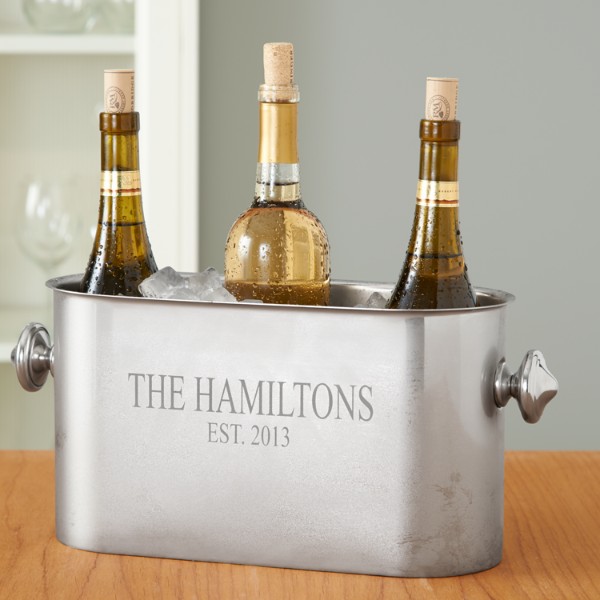 If your friend is a huge fan of white wine, she probably always has a bottle chilling in the fridge and ready to go. You can improve her entertaining potential and help her enjoy her favorite vintage with a personalized stainless steel wine chiller complete with a stopper. The piece can be customized with names and their wedding date for a jaw-dropping accent that will be a staple at her gatherings in the future.
After years of being friends, you certainly have more than your fair share of treasured photos, so why not surprise her with one of your favorites inside of a photo frame made just for her? Or if you can't pick just one, you can opt for a photo collage that features her name in cutout letters that can hold a few of your favorite snapshots.
A glass keepsake box.
With the countless touching gifts your friend is sure to receive at her bridal shower and the many wedding gifts she'll receive, she'll need a place to store the smaller items that she wants to hang onto. A personalized glass keepsake box is an elegant addition to any home and it can be personalized with her name and a message of your choice. She'll think of you fondly for years to come every time she opens it up.
You don't want to give one of your best friends a gift that you can find in any old department store. This occasion calls for something as special as she is, so go out on a limb and look into personalized gifts that are sure to put a big smile on her face during the celebration.