Like any other holiday, Easter is the perfect excuse to indulge in sweets. From cupcakes and trifles to bunny cakes and pudding desserts, there are loads of options for a family chef of any skill level. Take a break from making Peeps and candy the main event, and use them to decorate one of these delicious Easter desserts.
We've gathered over 67 of the best Easter dessert recipes in five sweet categories: Easter Cookies, Easter cakes, Easter cupcakes, Easter bunny cakes, and a mixture of various Easter treats at the very bottom. Just a warning: you might develop a cavity just from reading this list!
Easter Cookie Recipes
Cream-filled Easter Cookies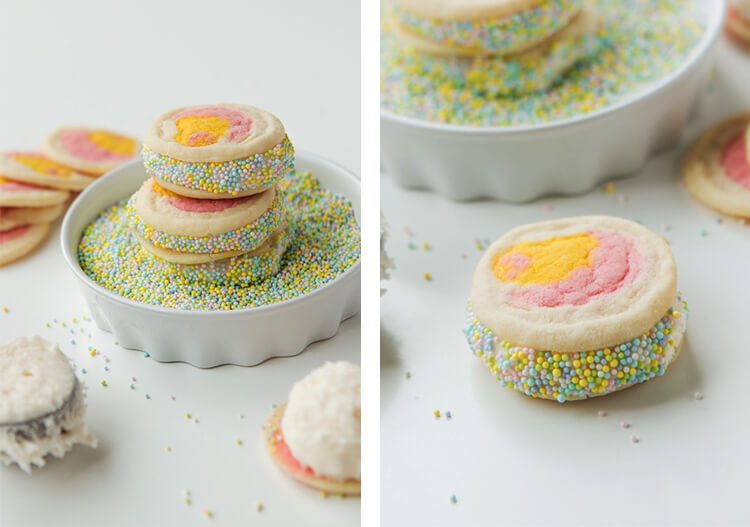 The only thing better than one cookie is two. And the only thing better than two cookies is cream in the middle. Thank heavens for this recipe from Oh, Sweet Basil.
Lemon-Glazed Cookies for Easter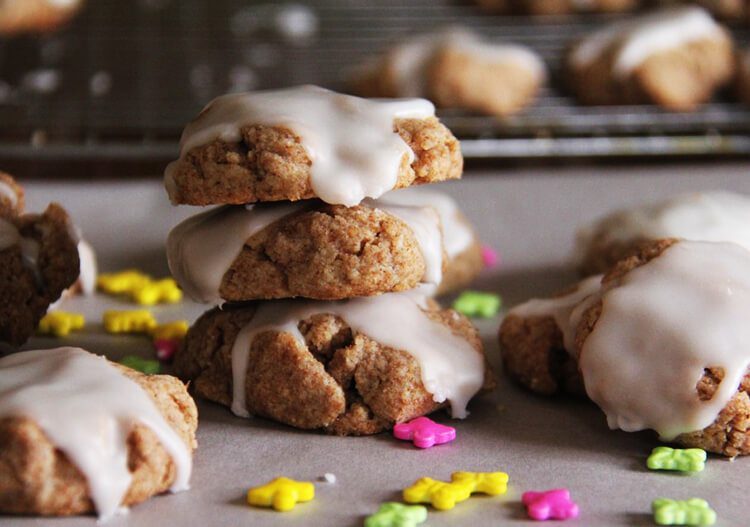 MealDiva brings her A-game with these light sugar cookies. The lemon glaze brings these to a new level that's fit for a special Easter occasion, and frankly, any other day of the year.
Easter Candy Brownie Cookies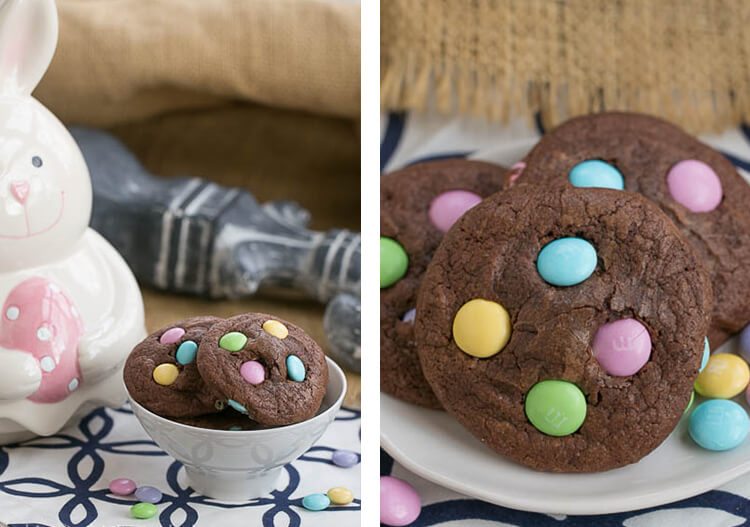 That Skinny Chick Can Bake isn't lying. Brownie cookies are the perfect snack for a chocolate lover in need of a rich Easter sweet. The colorful Easter candy adds the color and the festive spirit.
Easter Egg Cookie Dough Truffles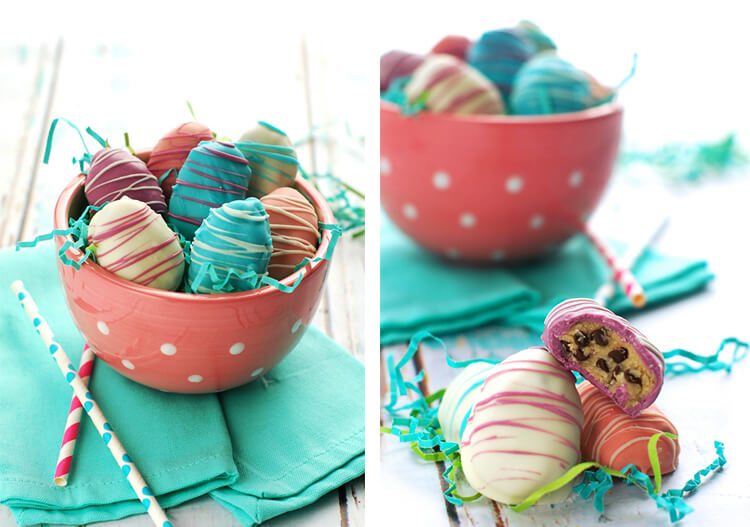 These tiny masterpieces will satisfy any Easter sweet tooth. These desserts from Wine and Glue are practically gourmet and will impress all of your Easter dinner guests.
Easter Nest Cookies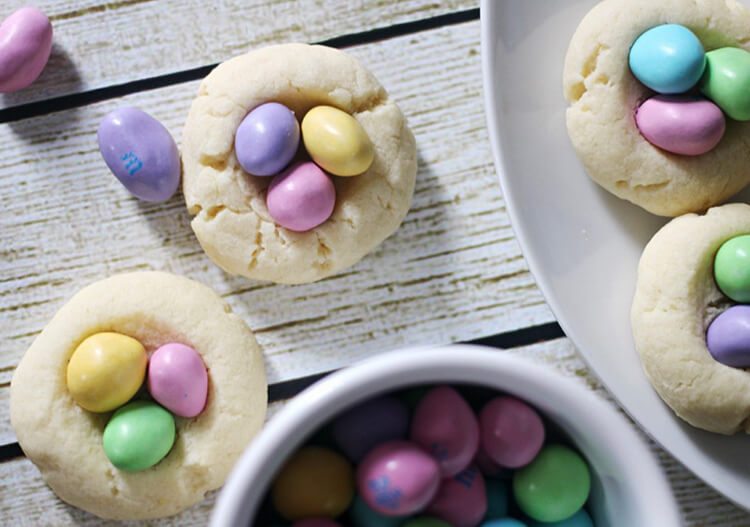 When you're all about the presentation but you don't have the time, Frugal Mom eh? has a recipe perfect for you. Simple sugar cookies get dressed up with colorful Easter candy for a mouthful of goodness.
Easter Basket Cookie Cups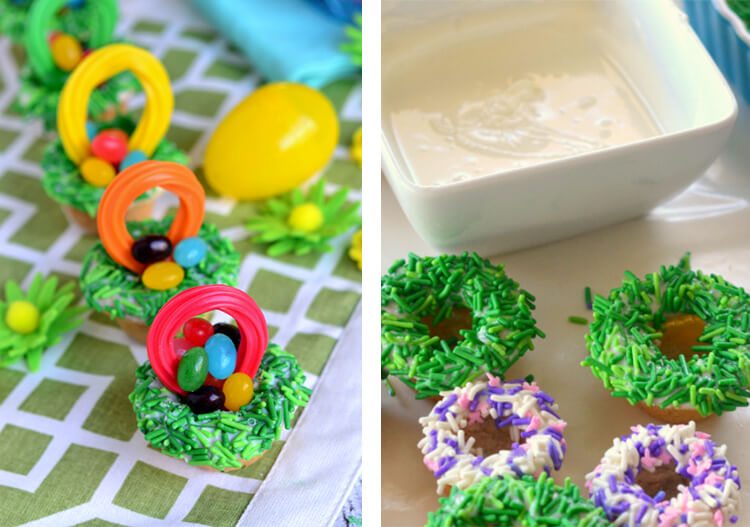 Sprinkles, candy, and frosting, take cookies to where you never thought they could go in this recipe from Mom on Timeout. Kids will love these, and they make great gifts, too!
Easter Chicks Lemon Cookies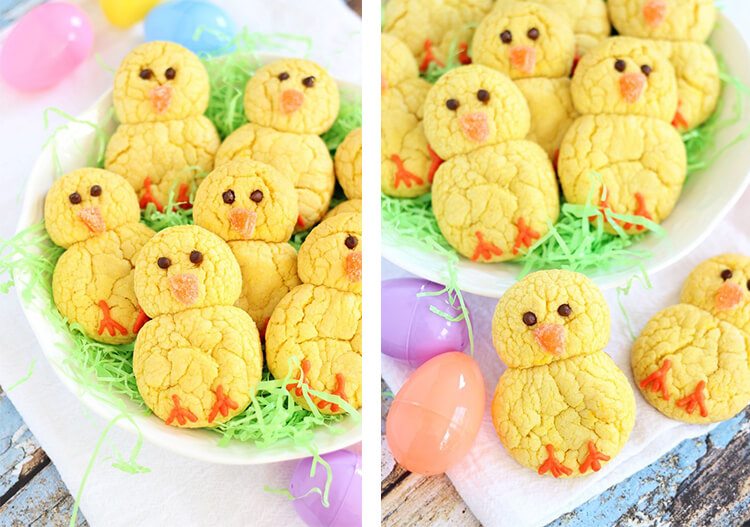 While lemon cookies aren't always the most popular, folks won't be able to deny these adorable little chicks. The Gold Lining Girl knows that chicks mean more to Easter than Peeps, and these cookies are sure to steal the holiday.
Easter Trail Mix Cookies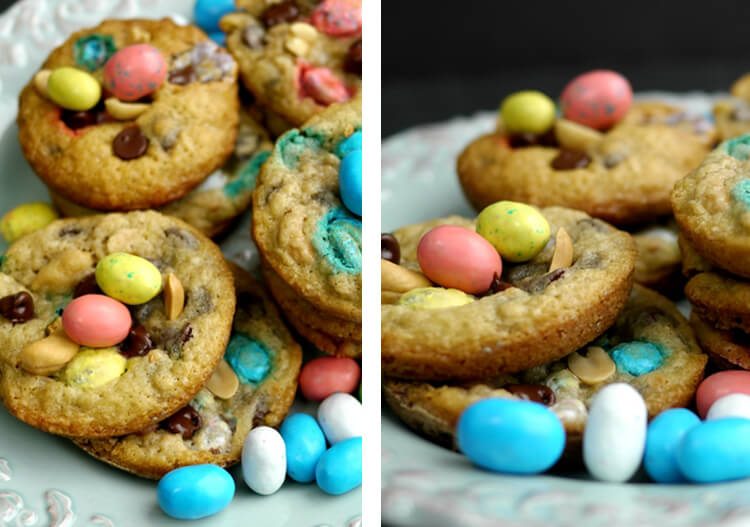 Sometimes you need a little more stuff in your cookies. Enter Noble Pig with their fully stuffed trail mix cookies. They might be a bit more filling, but you'll likely find room for more than one.
Gingerbread Cookies for Easter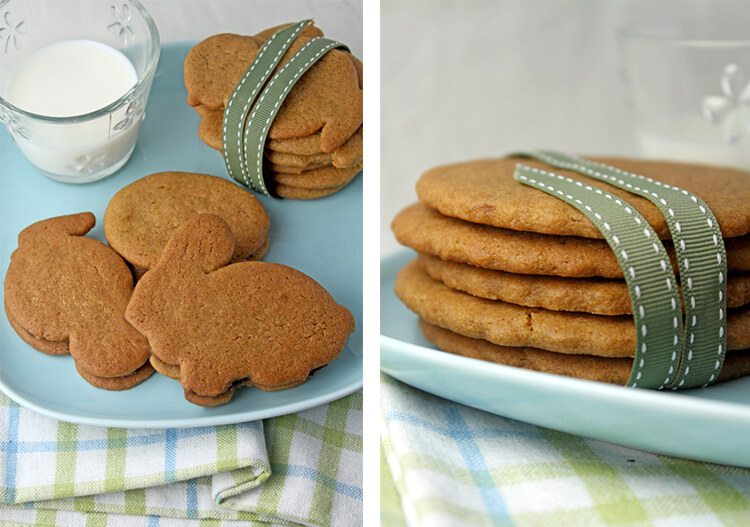 Gingerbread isn't just for Christmas! Introduce the spicy treat to a new holiday with this recipe from Cook Sister. Dig up your seasonal cookie cutters to really drive the Easter theme.
Easter Egg Hunt Sugar Cookie Bars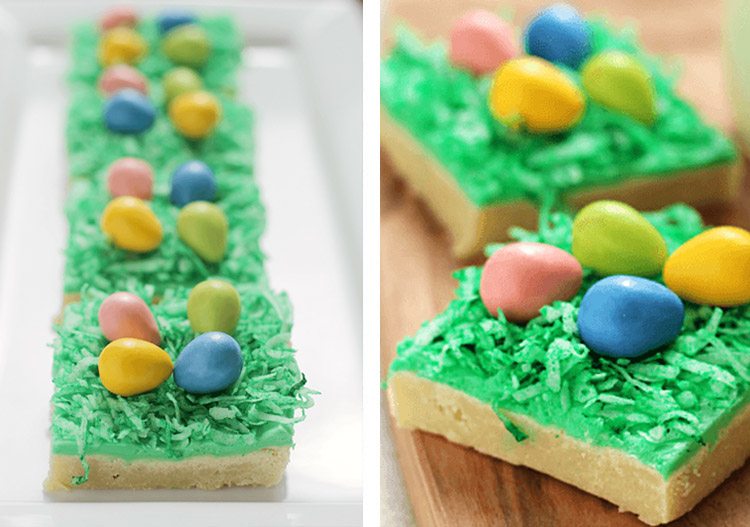 Every cookie lover loves a good cookie bar. Julie's Eats and Treats has a cookie bar recipe that you won't be able to turn down this Easter.
Easter Bunny Macarons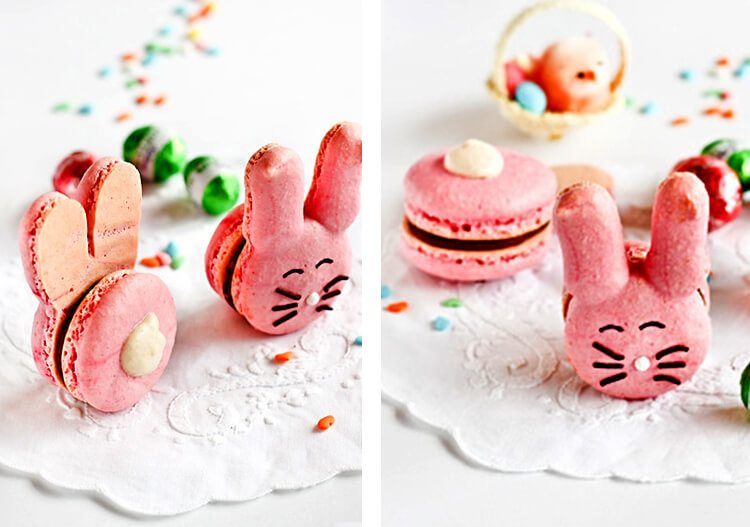 Macarons are delicious on their own, but you won't be able to resist these Easter-themed ones. Raspberri Cupcakes transforms these into Easter bunnies for a cute, airy treat.
Chocolate Bunny Silhouettes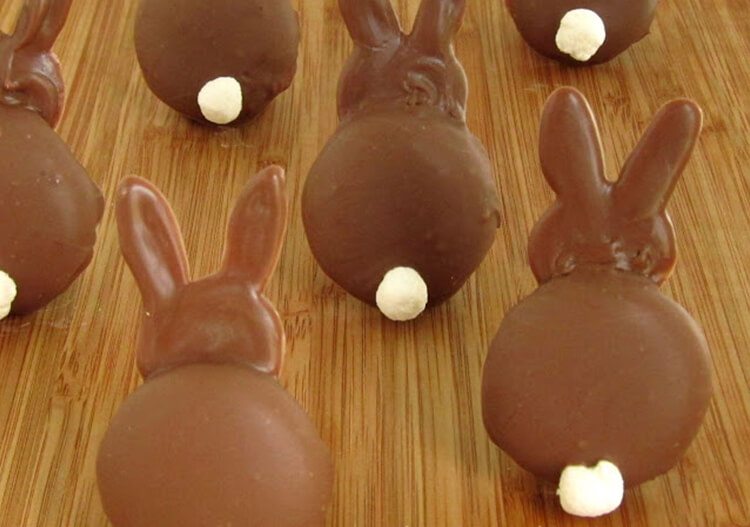 For a dessert that's too cute to eat, look no further than Hungry Happenings. Don't worry, even though these are great to look at, the vanilla wafers and chocolate make them delicious too.
Whole Wheat Blackberry Easter Cookies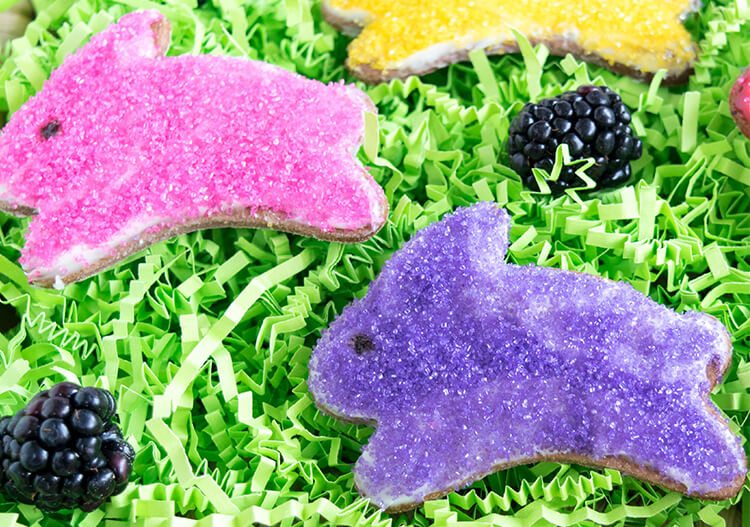 At last, we've come to a cookie that won't make us feel bad about eating more than our share. These whole wheat cookies from KiipFit are guiltless, and you might be surprised at how much your kids like them.
Chocolate Chip Meringue Easter Cookies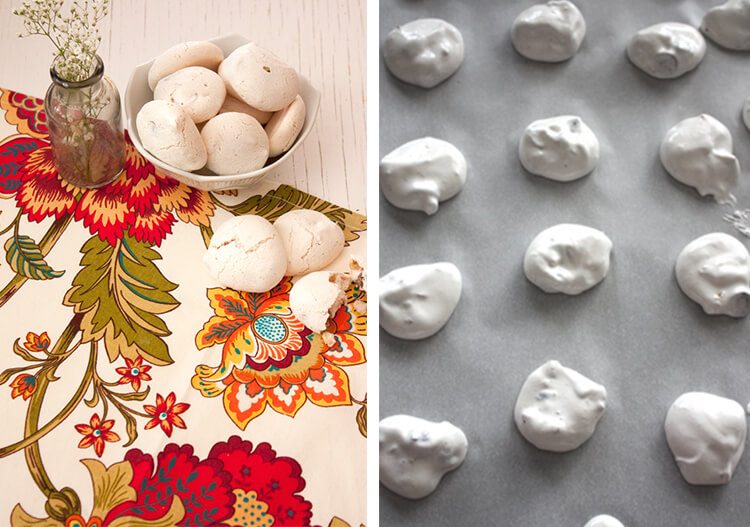 Take it from Muy Bueno — meringue is perfect for the Easter season. These chocolate chip cookies keep it fancy with a mouthwatering meringue.
Monster Easter Cookies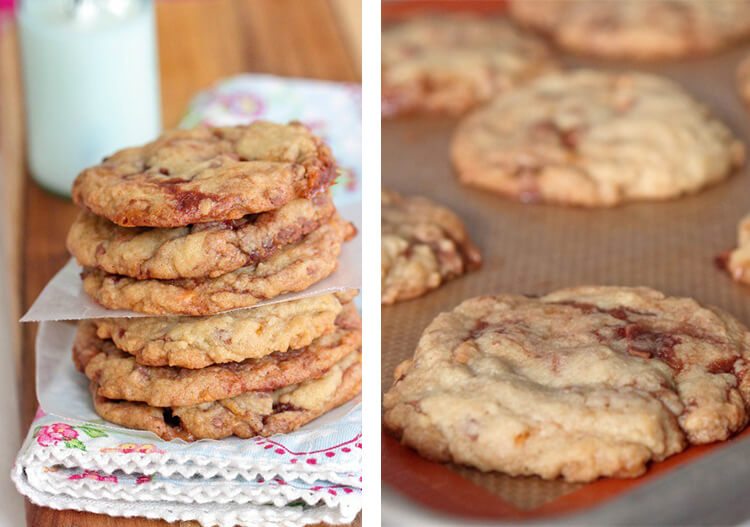 Picky Palate knows how to bring the sweetness. These cookies are packed with big chunks of Easter-themed candy. They're a mouthful, so no wonder they call them "monster" cookies.
Easter Cake Recipes
Easter Cake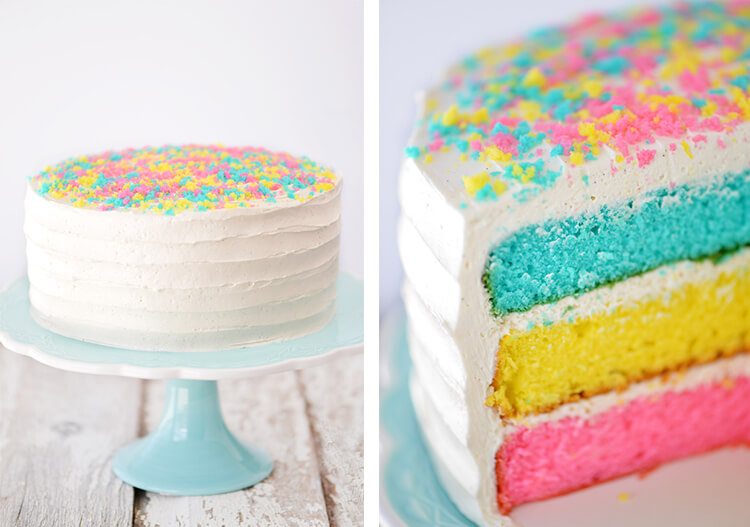 If your favorite thing about Easter and springtime is the colors, you'll love this cake by The Gunny Sack. A little bit of food coloring and a delightful vanilla bean frosting make this one a crowd-pleaser.
Easy Easter Peeps Cake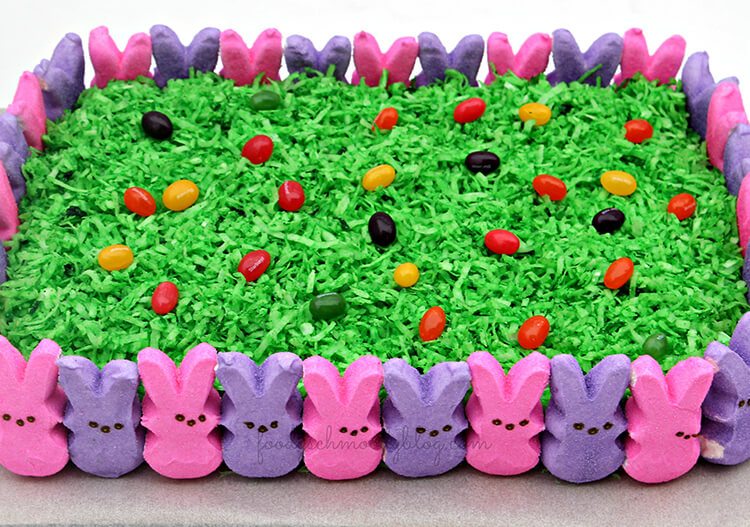 Go all out with the Easter egg hunt theme with this adorable cake. FoodySchmoody simply tinted shredded coconut green to make this grass effect. The end result might be too cute to eat.
Super Easy Easter Cakes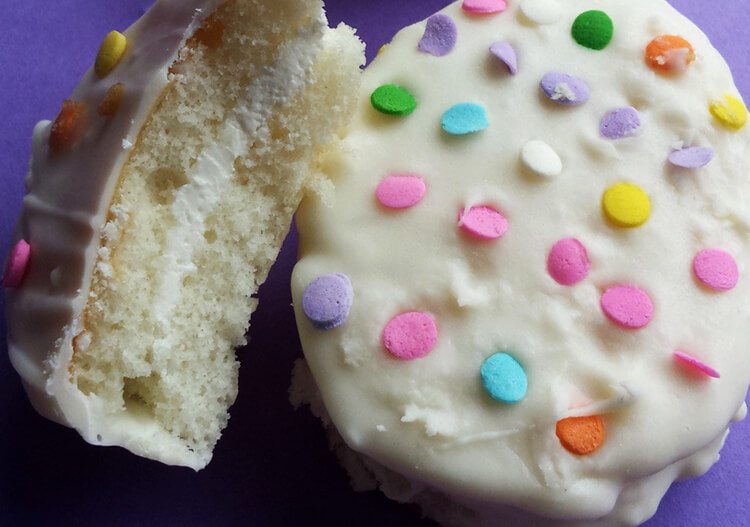 For the segment of us who don't enjoy slicing and serving cakes, Ottawa Mommy Club dreamt up these little cakes perfect for individual servings. These are simple, but what they lack in complexity, they make up for in taste.
Funfetti Easter Cake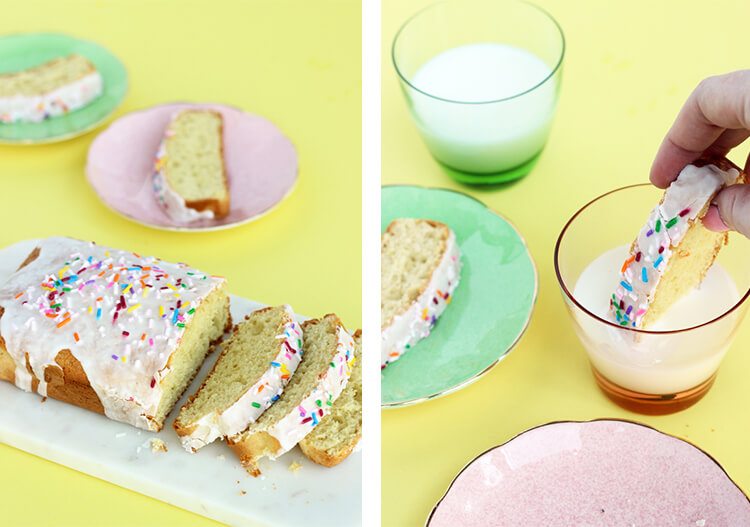 Sprinkle lovers will rejoice over this Funfetti Easter Cake. The Sweet Escape brings together light frosting, sweet cake, and cheerful sprinkles to produce this colorful treat.
Easy Chocolate Easter Cake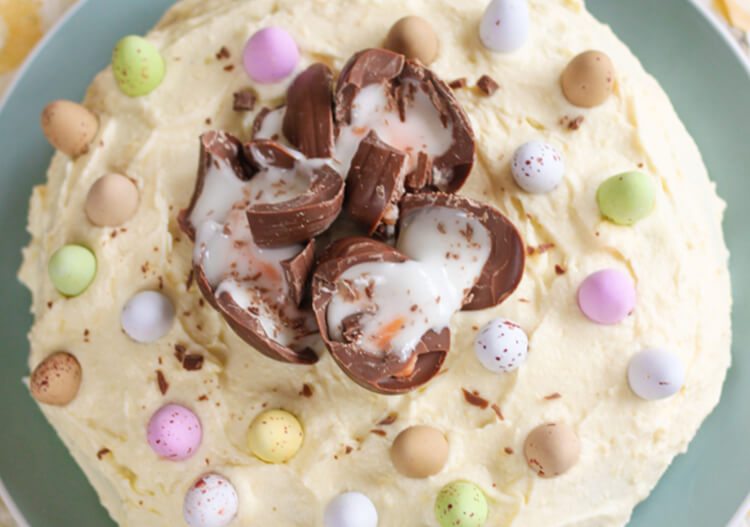 Nobody can deny a chocolate treat around Easter time. Get a double dose of it in this chocolate cake out of the Amuse Your Bouche kitchen. The chocolate cake married with the chocolate candies on top fulfill every sweet tooth's craving.
Matcha Green Tea Cake with Vanilla Honey Cream Cheese Frosting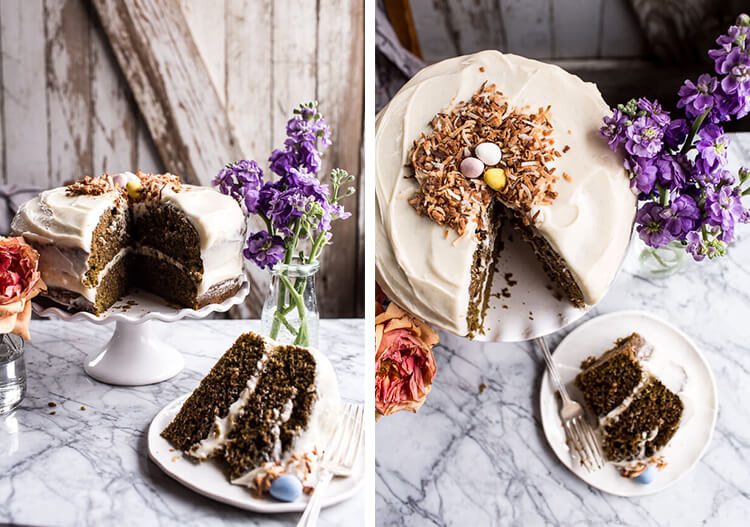 Half Baked Harvest takes a step away from traditional Easter desserts to cook up this matcha green tea cake. A unique vanilla honey cream cheese frosting and chocolate Easter egg candies make this one a game-changer.
Easter Ombré Piñata Cake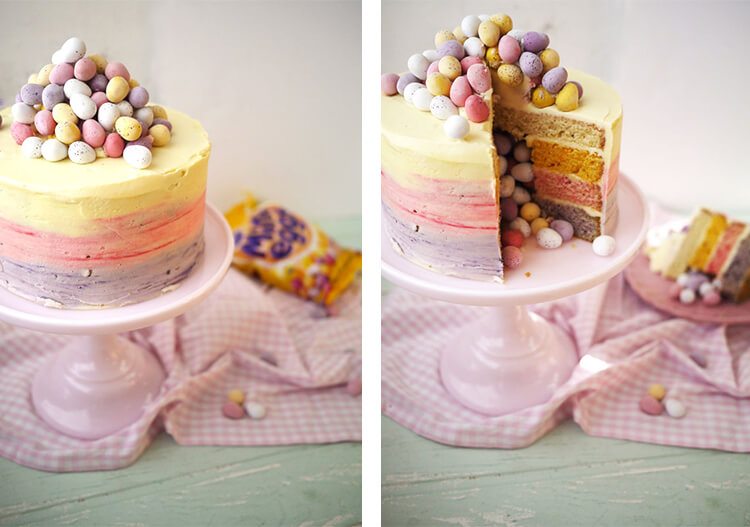 A sweet candy surprise awaits you in the center of this beautiful cake. Taming Twins gives us such a clever way to use the multiple layers that you might not even want to eat it.
Easter Icebox Cake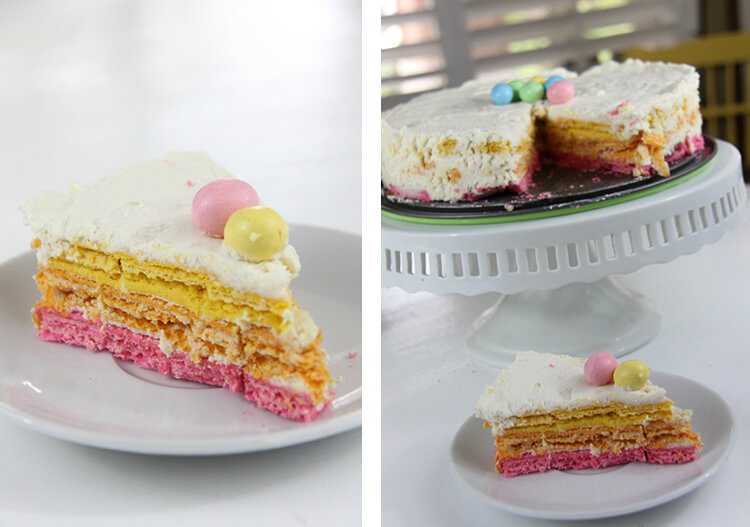 Even if the crunch is your favorite thing about a wafer, you won't mind the way they soften after spending some time with a creamy frosting in this icebox cake. We all have Made with Happy to thank for introducing us to this new way to enjoy wafers.
Easter Sunshine Cake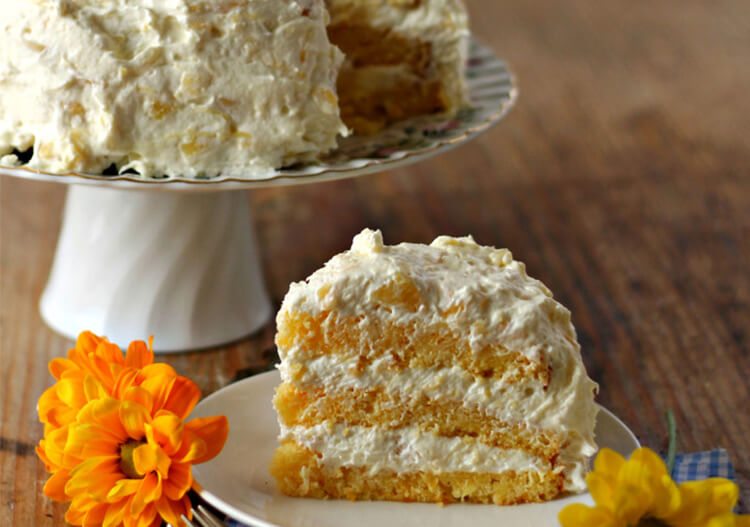 When you need a dessert for Easter dinner and need a break from the pastels, spring for this sunshine cake from The Country Contessa. The cake gets its flavor from oranges and pinapple, and makes the perfect springtime dessert.
Happy Easter Egg Cake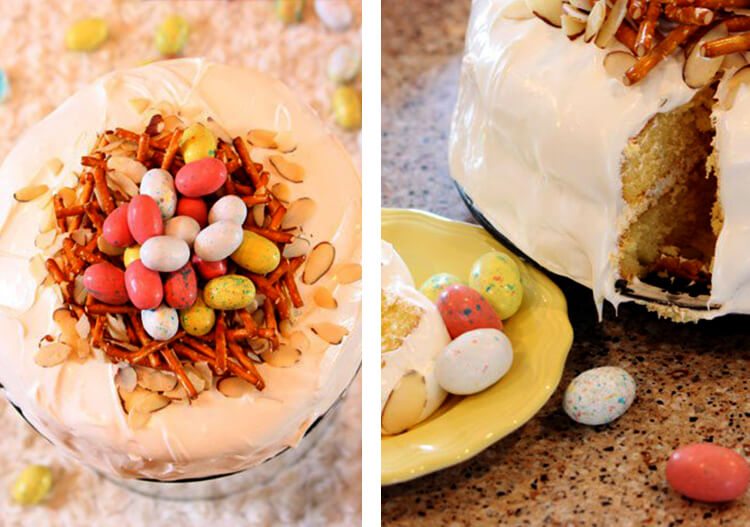 You don't need to be an expert cake decorator to pull off this cake from Viva Veltoro. Dress up your boxed cake with a "nest" made from pretzels and candy eggs. Simple and memorable.
Easter Polka Dot Cake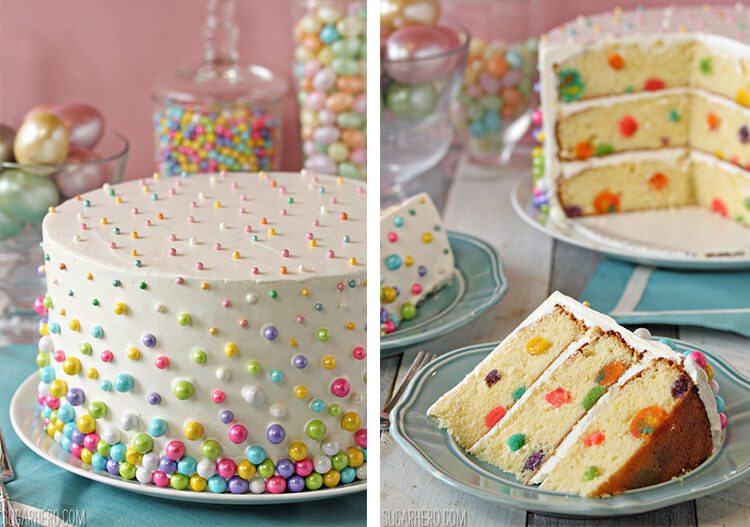 Find yourself with lots of extra time? This cake from SugarHero is for you. Sugar pearls are meticulously placed to execute this exquisite cake design. This is not for the impatient baker.
Easter Ice Cream Cake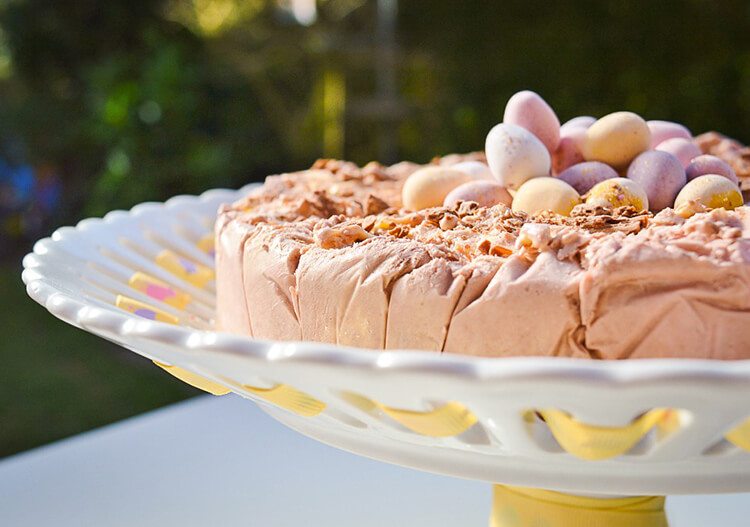 By the time spring rolls around, everyone is ready to break out the ice cream cakes. Neapolitan ice cream gets a cake makeover with this recipe from Fancy Shanty. Mini Easter egg candies are the cherry on top.
Chocolate Easter Cake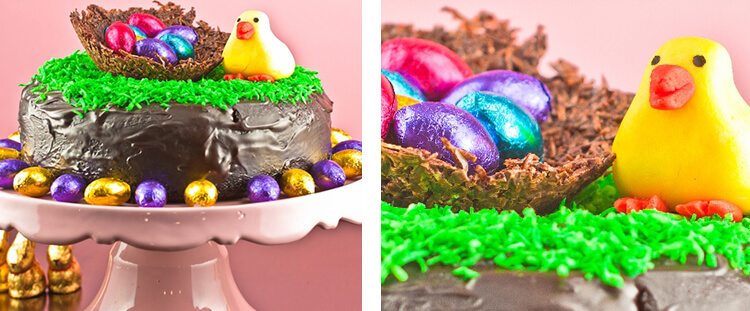 It's all about the presentation with this cake from Delicious Everyday. It's not quite for fondant beginners, but anyone can enjoy a generous slice of this dessert.
Pineapple Carrot Cakes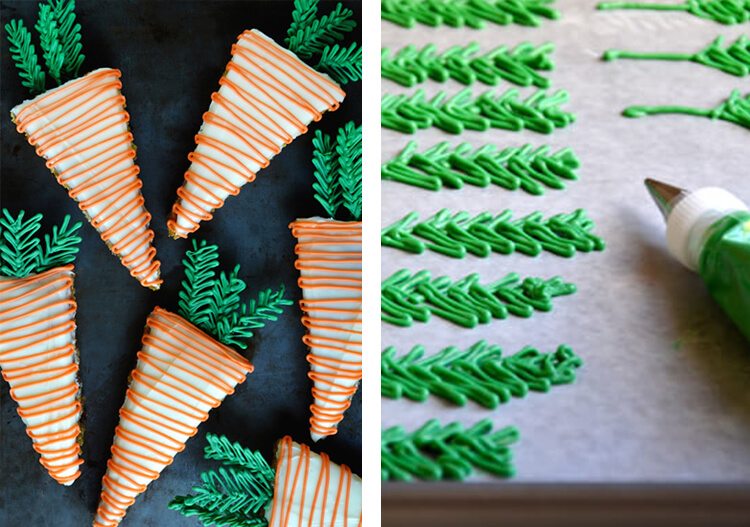 Carrot cakes shaped as carrots are the ultimate Easter treat. Just a Taste adds pineapple to up the flavor factor and icing to knock the presentation out of the park.
Carrot Cake Pops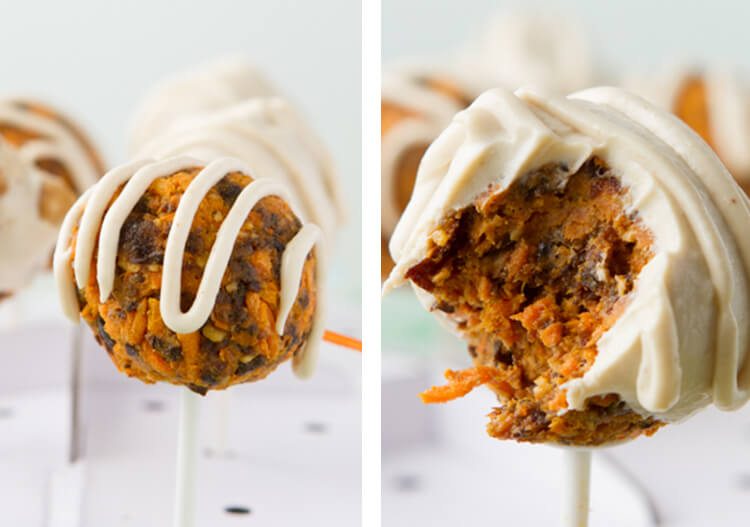 Now that cake pops have exploded in popularity, we're finally starting to see some guilt-free versions. Healthful Pursuit makes these sweet carrot cake pops and hazelnut truffles that are bound to be a hit among your Easter desserts.
Easter Dirt Cake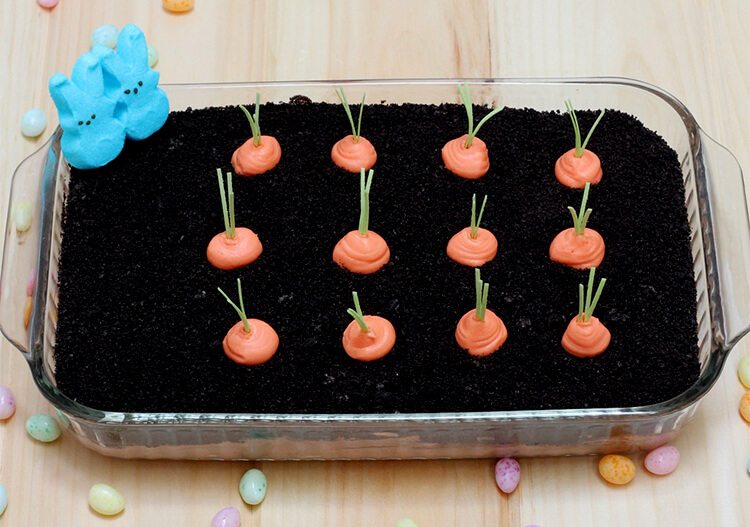 Plant your carrots into this dirt cake. It's as easy as layering a pudding/Cool Whip mix and crushed Oreos. It might look dirty, but The Semisweet Sisters knows how to make it tasty.
Easter Cupcake Recipes
Simple Easter Cupcakes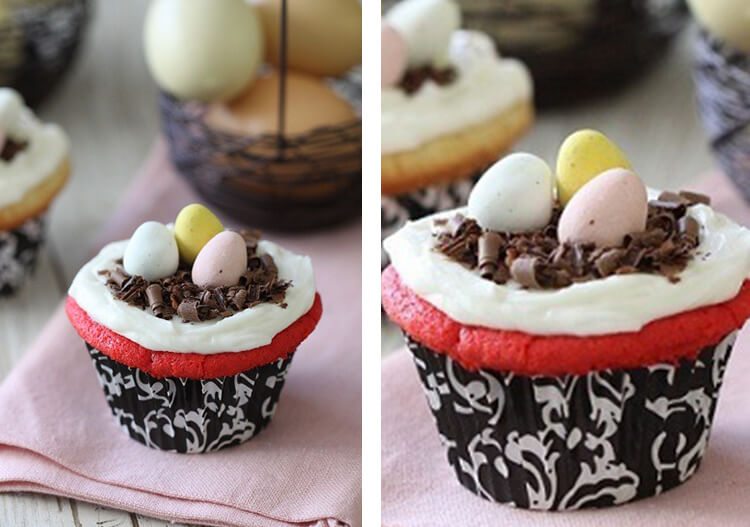 Pick white or yellow cake mix, shave some chocolate, pop on some Cadbury candy eggs, and you've mastered this recipe from Picky Palate. These are easy to make and easy to eat too many of.
Easter Chick Cupcakes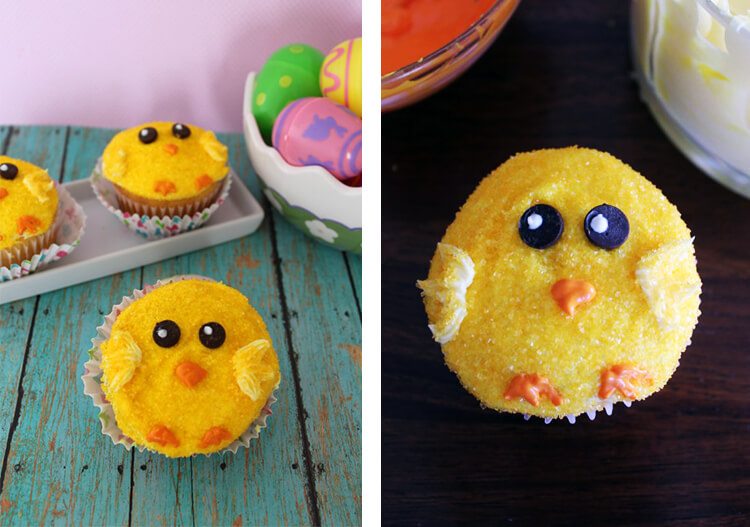 They look hard to make, but these chick cupcakes from Tammilee Tips are easier than they appear. If you're a cake-decorating novice, this is a good place to start.
Vegan Easter Cupcakes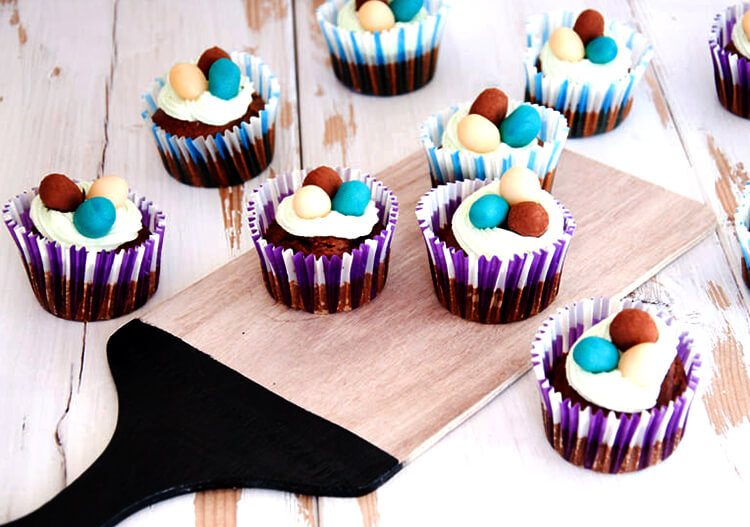 For the folks on a special diet, Elephantastic Vegan offers up these vegan cupcakes to ensure that everyone can enjoy festive cupcakes. They might be vegan, but everyone will love the sweetness in these.
Easter Cupcakes with Surprise Bunny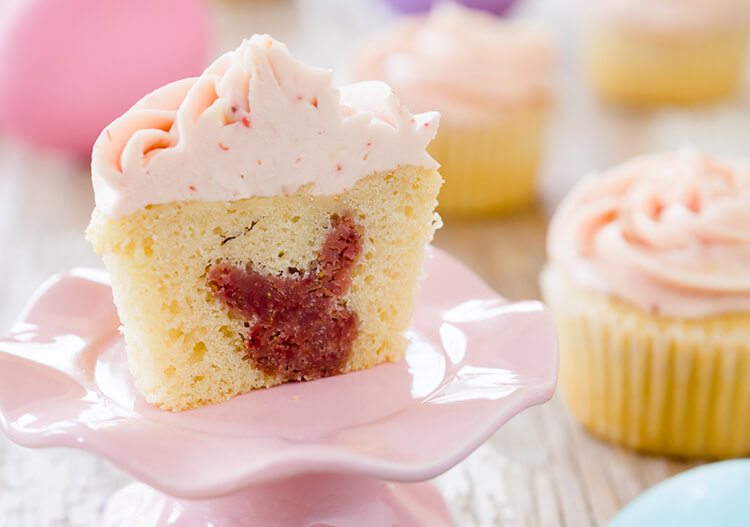 Take a big bite out of this Cupcake Project cupcake and what will you find? The bunny shapes are sure to get a giggle or two, and they definitely aren't as difficult to make as you think.
Minty Chip Easter Cupcakes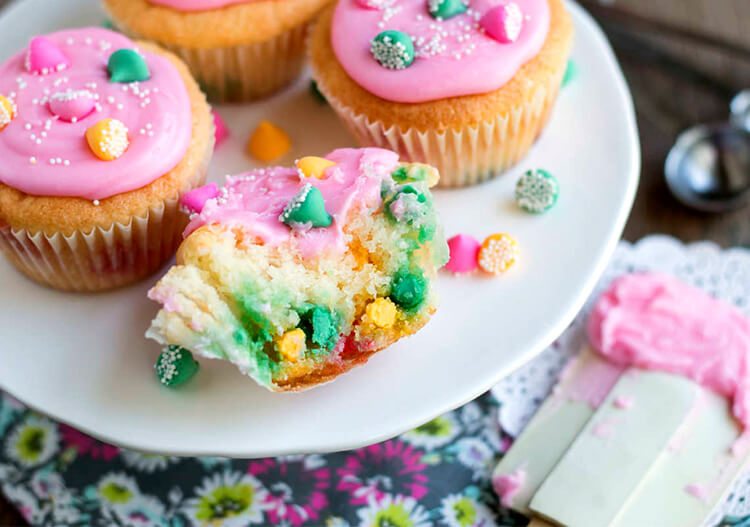 You've seen these pastel colored mint chips before, but have you ever thought of using them for an Easter cupcake? Gulten Free with LB has you covered.
Lemony Lemon Cupcakes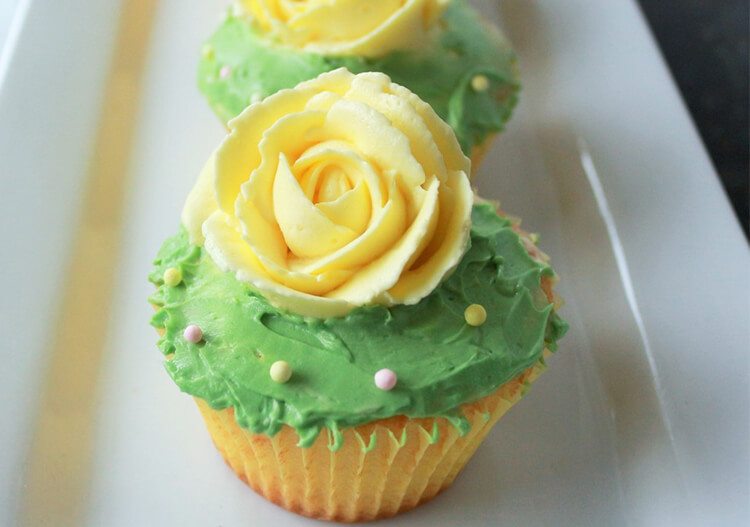 Homemade Food Junkie doesn't seem to think there's such a thing as too much lemon. They've definitely proved it with these sweet and tart cupcakes.
Cracked Egg April Fool's Cupcakes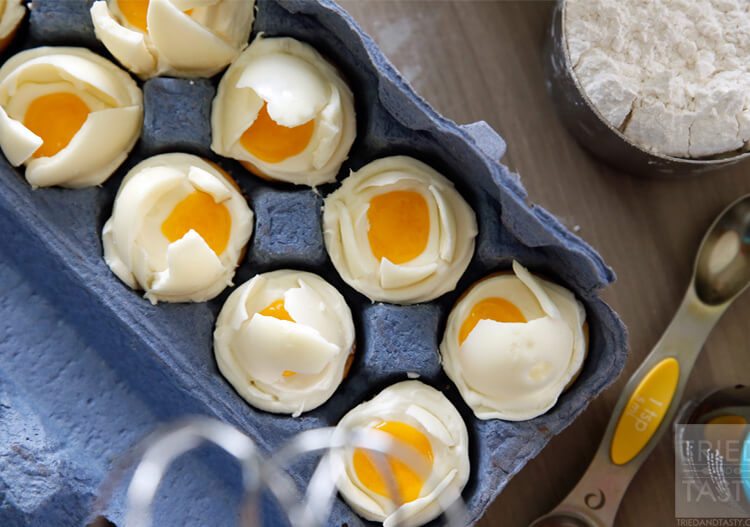 Not quite for Easter, but themed for springtime nonetheless, these joke cupcakes from Tried and Tasty are sure to get some double takes. The eggs can easily be adapted to an Easter theme, or make them as directed for a tricky treat.
Banana Cupcakes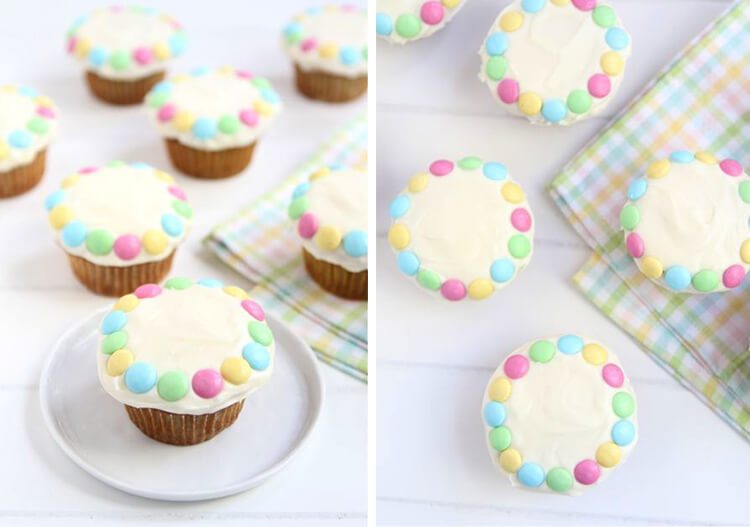 For the not-so-sweet cupcake, try your hand at these banana ones from Two Peas and Their Pod. Cream cheese frosting and Easter candy on top will bring the sweetness without overpowering that banana flavor.
Coconut Cupcakes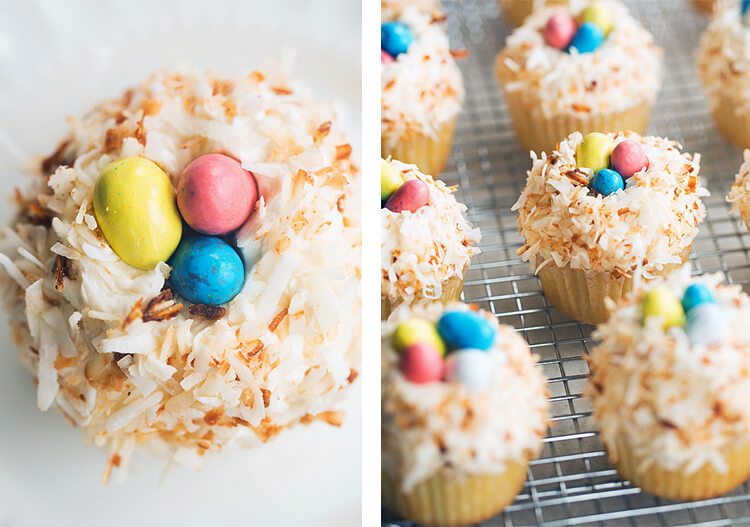 Shredded coconut is the main ingredient for these cupcakes made to look like bird nests from Brown-eyed Baker. Pop in some chocolate egg candies, and you've got yourself an Easter dessert.
Speckled Egg Chocolate Easter Cupcakes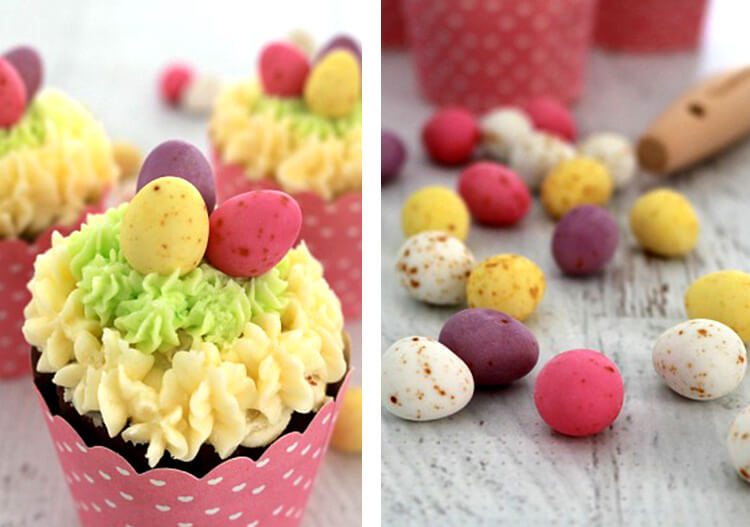 The speckled egg is a realistic version of all of the other Easter candies out there. These cupcakes from Love Swah perfectly bring that coloring to life for a yummy, beautiful dessert.
Gluten-free Easter Chick Cupcakes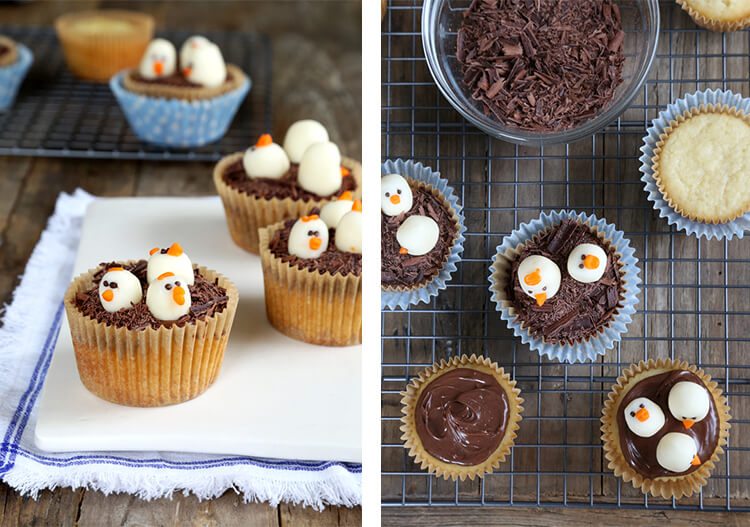 For anyone with a gluten sensitivity, try out these gluten-free cupcakes from Gluten Free on a Shoestring. No one should sacrifice treats for their dietary restrictions, and you can be the hero that brings the sweets without the harm.
Orange Almond Easter Cupcakes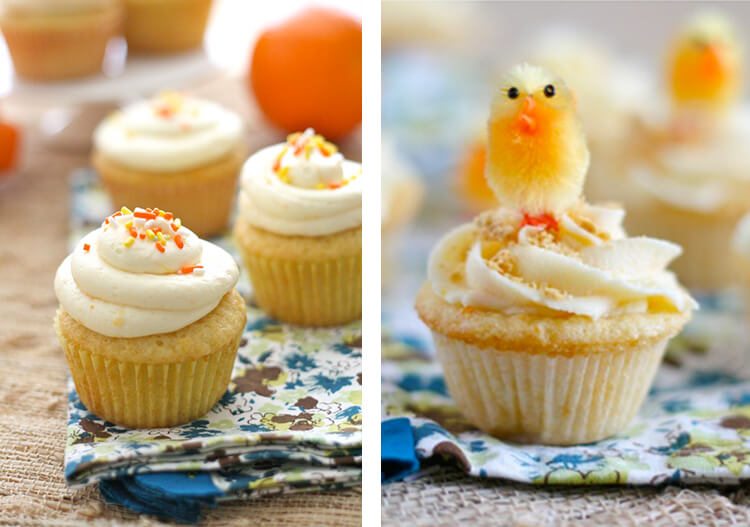 Orange and almond flavors come together for a great tasting cupcake from Lauren's Latest. It's not two flavors that you quickly think of to make an Easter dessert, but maybe you should start.
Easter Carrot Cupcakes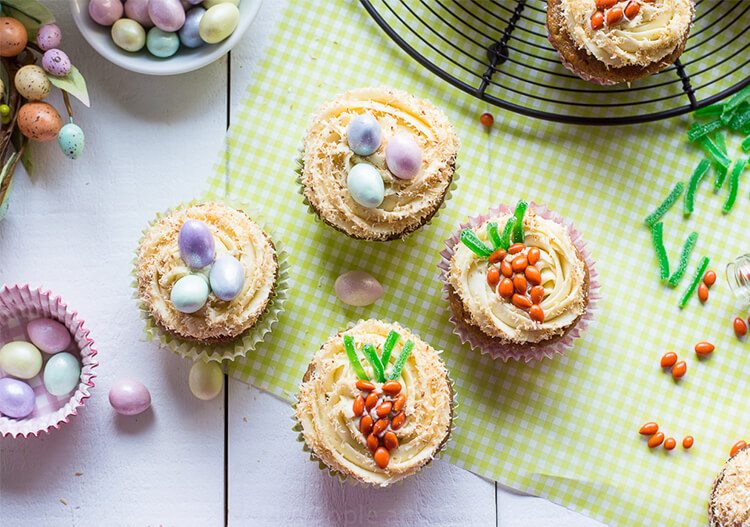 Pineapple and Coconut uses maple cream cheese frosting to set these cupcakes apart from every other Easter dessert. This is definitely a cupcake you'll eat frosting-first.
Butterfly Cupcakes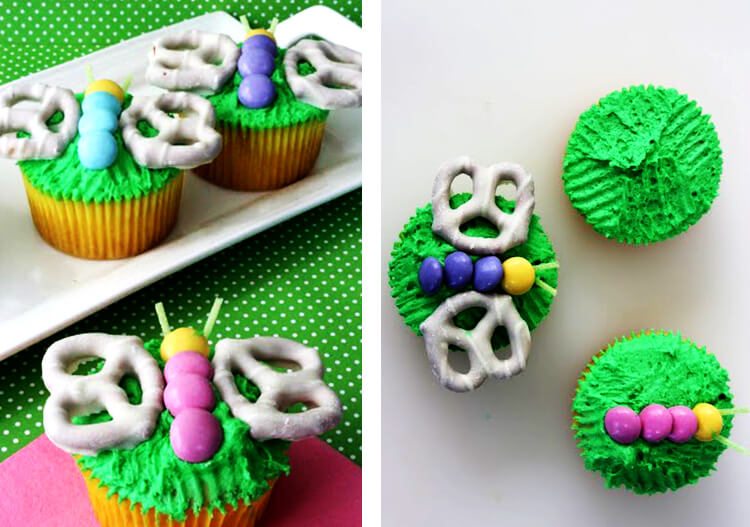 Butterflies sometimes get overlooked in Easter decorating, but not with these Thrifty Jinxy cupcakes. This treat is perfect for the crafty baker, and even better for the folks who like to eat the top of the cupcake before the cupcake itself.
Chocolate Egg-Stuffed Cupcakes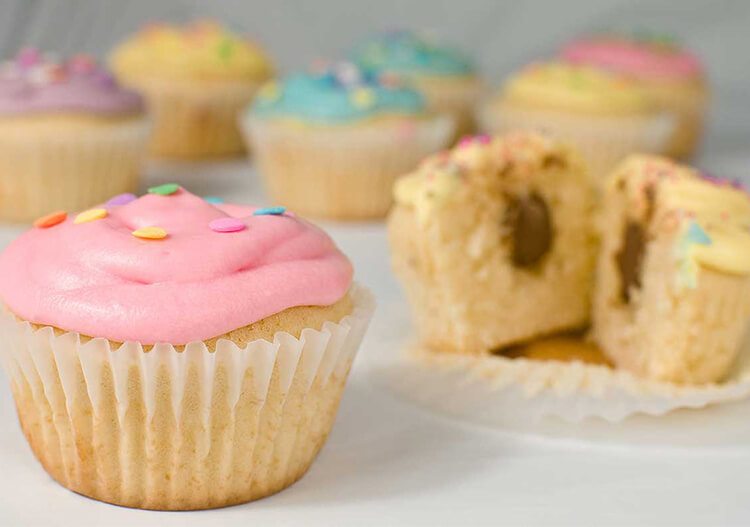 Life's Ambrosia knows that cupcakes with surprises inside are the best kind of cupcakes. A simple chocolate egg does the trick for these delicious treats.
Easter Bunny Cake Recipes
Easter Cake Bunny Peekaboo Cake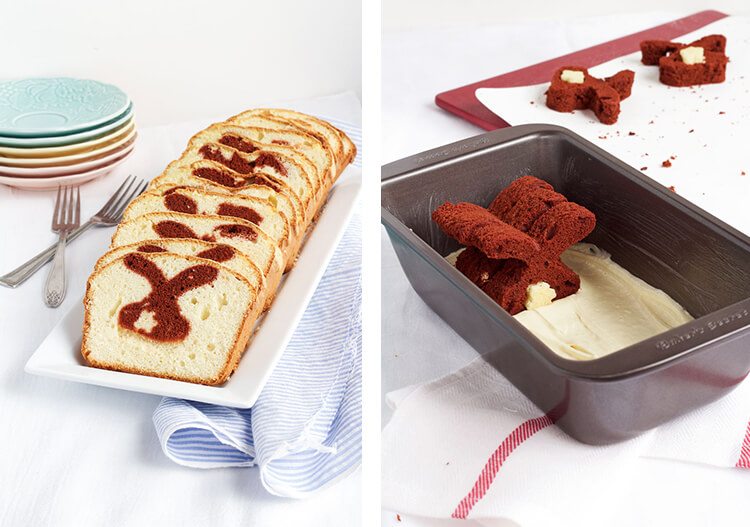 The Bearfoot Baker puts a surprise bunny in each slice of this Easter bunny cake. And don't worry, this cake isn't all gimmicks. It tastes pretty good, too.
Easter Bunny Cake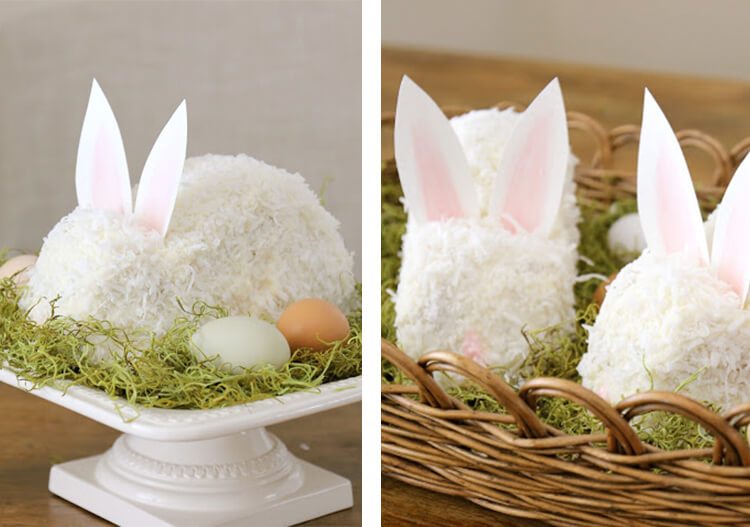 These coconut Easter bunny cakes are an elegant take on your typical festive cake. You won't be in any hurry to cut open these beauties, but Everyday Occasions makes sure that the taste is worth it.
M&Ms Carrot Cake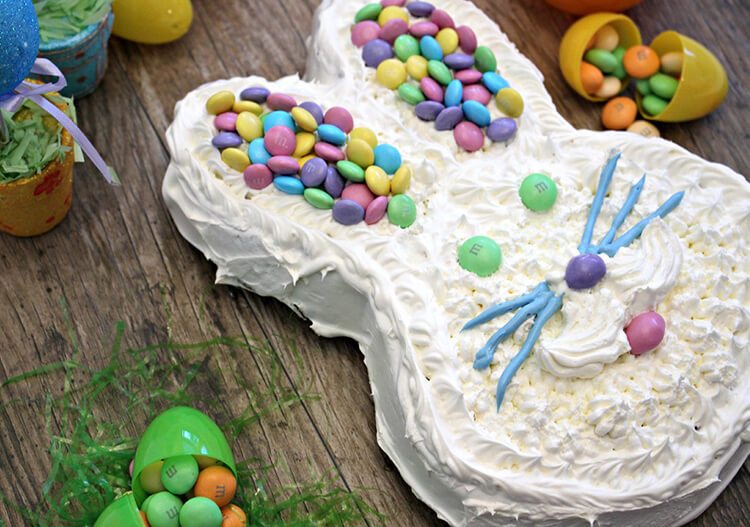 Get the kiddos to help decorate this cake from Scrappy Geek. Sure, you might eat a few M&Ms in the process, but leave some for the ears.
Bunny Surprise Cake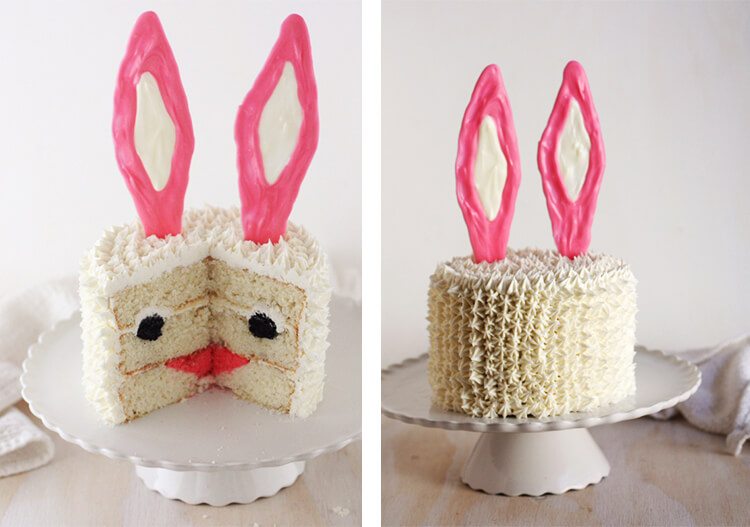 The best part about this bunny surprise cake from Completely Delicious is that it's different from other surprise-inside cakes. The bunny ears atop the cake play into the image you get when you cut into the cake. It's a picture-perfect surprise that you can't help but be proud of.
Delicious Easter Treat Recipes
Butterscotch Haystacks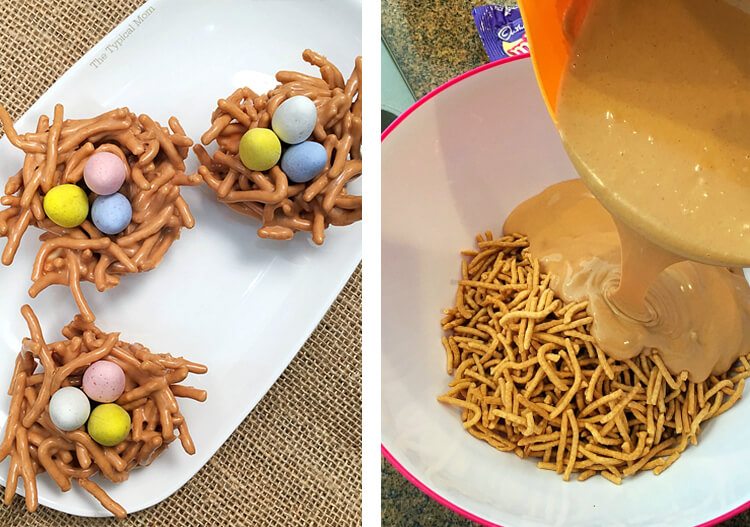 When you think "dessert," crunchy chow mein noodles don't immediately come to mind. The Typical Mom coats them with a butterscotch and peanut butter mixture to change your mind. Customize these cute treats with your favorite Easter candy.
Easter Marshmallow Bark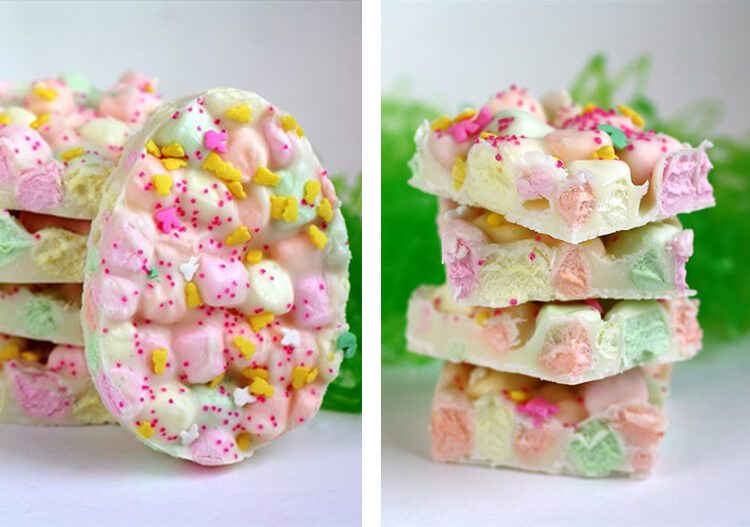 If you thought dessert barks were just for Christmas, you're in for a treat from Butter with a Side of Bread. Easter-themed marshmallows and white chocolate make up this sweet, festive bark.
Peeps S'mores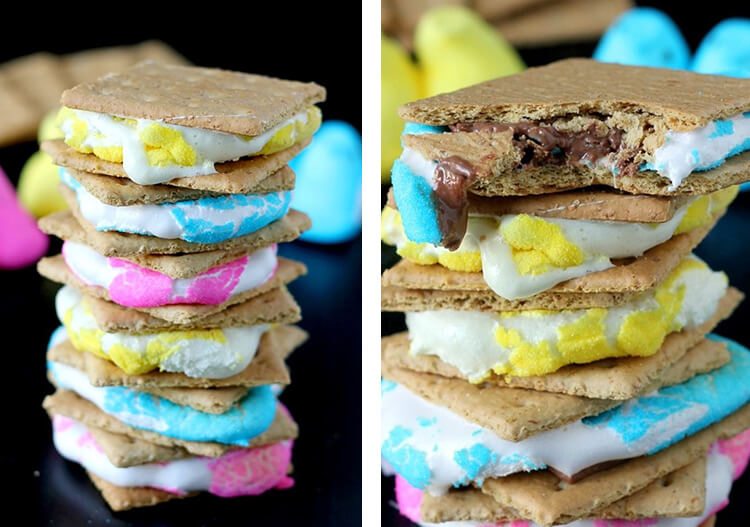 Domestic Superhero takes your classic s'more and gives it an Easter boost with this new way to eat your Peeps. Nobody can turn down this campfire treat, and this is an easy way to theme them.
Chocolate-Dipped Berries Easter Carrot Treats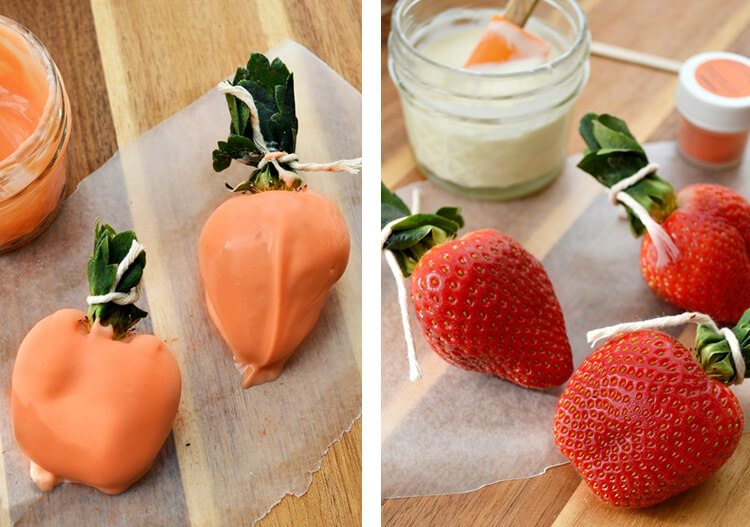 If you're looking for a treat that's all about the illusion, check out this cute idea from The Rebel Chick. Chocolate-covered berries masquerade as carrots in the dirt in this creative treat.
Easter Cream Confetti Trifles
Hun, What's For Dinner? knows that nobody can turn down a delicious trifle. Super sweet and colorful, this Easter dessert is a well worth hunting down all of the little cups to serve it in.
Strawberry Cake Mix Krispie Treat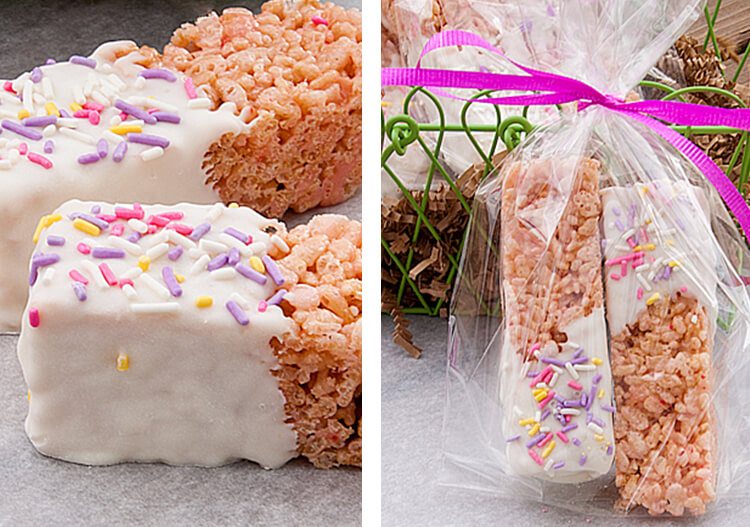 Rice Krispie treats get an Easter makeover in this creation from Real Mom Kitchen. These are even dipped for that extra special presentation.
Easter Cookie Dough Buckeyes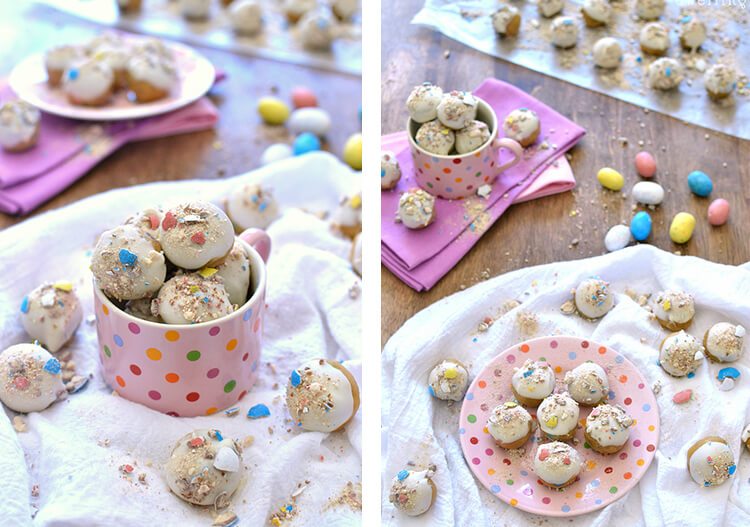 Easter can be a time for indulgence, and these cookie dough buckeyes from Lemon Tree Dwelling are no exception. It starts with peanut butter cookie dough, and ends with frosting sprinkles. They're not guiltless, but they're absolutely delicious.
Cookie Butter Popcorn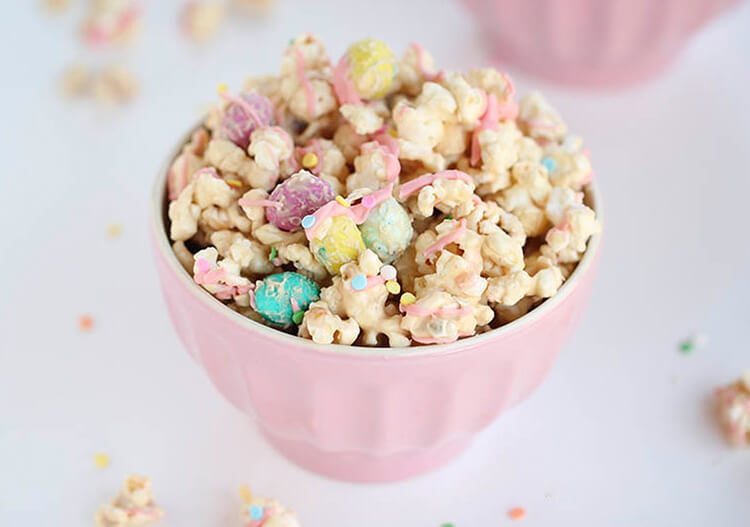 I Heart Naptime shows us the beauty of what happens when you mix snack time with dessert. Scratch smothering your popcorn with butter and salt and opt for this white chocolate and cookie butter alternative. At the rate this will disappear, you probably won't be able to make enough.
Easter Oreo Bark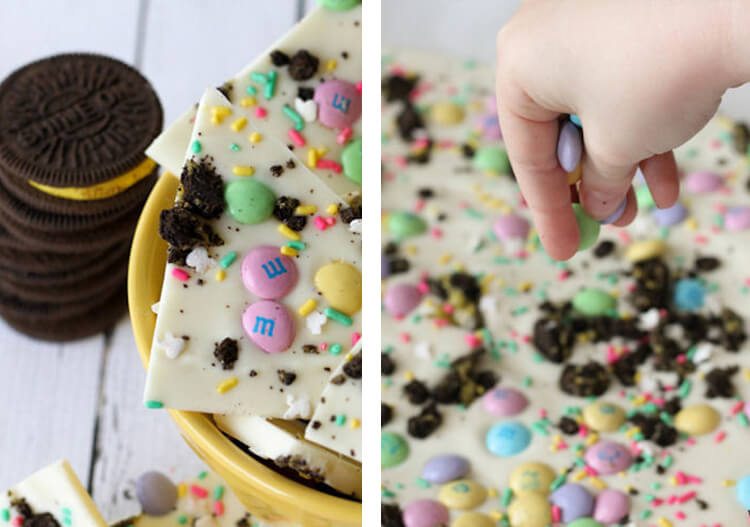 We'll take any dessert that uses Oreos. It's almost as if Lil' Luna was answering our prayers with this Easter Oreo bark recipe.
Peeps Skillet S'mores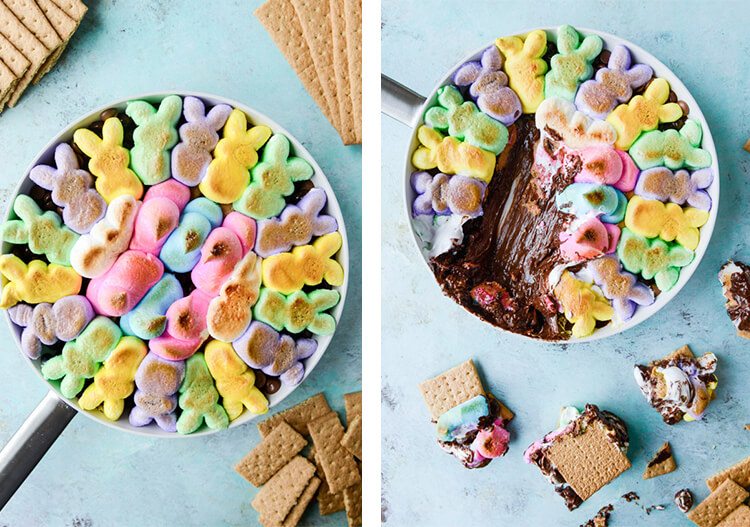 While it might be customary to make s'mores one by one, you'll love the idea of making an entire skillet of the chocolate-marshmallow insides. Peeps are the main players in this dessert from How Sweet It Is, and once they're perfectly toasted, there's no stopping the many hands that'll be in the pot.
Italian Easter Bread
This traditional Italian Easter bread from Bake with Christina is the perfect mix of colorful and tasty. It might not include a bunny or a chick, but it will be right at home at your Easter dessert table.
Easter Egg Chocolate Covered Strawberries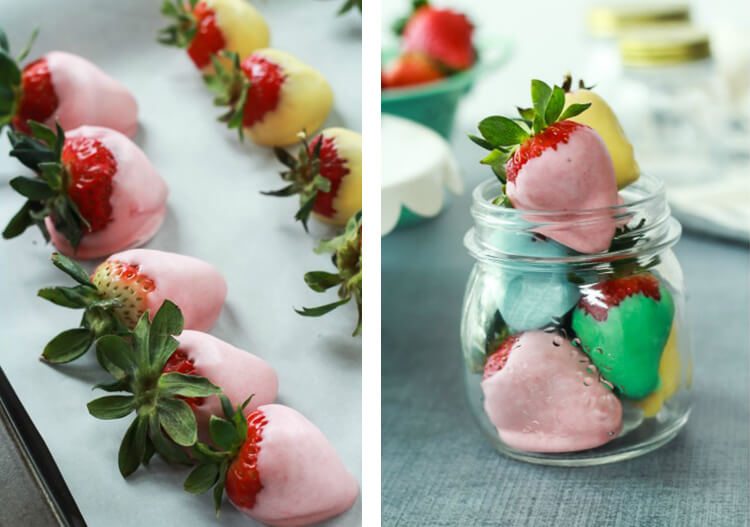 For perhaps the simplest dessert on our list, we turned to Joyful Healthy Eats for these scrumptious strawberries. Who knew how versatile chocolate-covered strawberries were? They're perfect for any occasion.
Marshmallow Eggs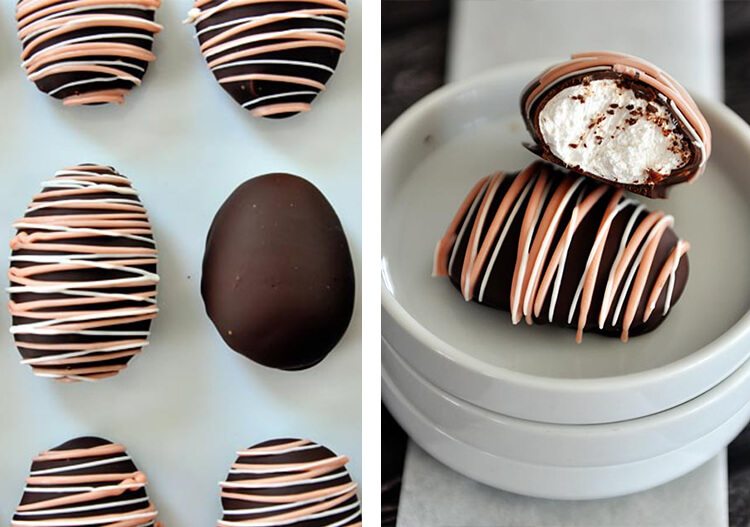 Marshmallow lovers will fall head over heels for these marshmallow eggs from Mel's Kitchen Cafe. Even if you think marshmallow could be hard to work with, these little guys are certainly worth your while.
Pink Chocolate Covered Pretzels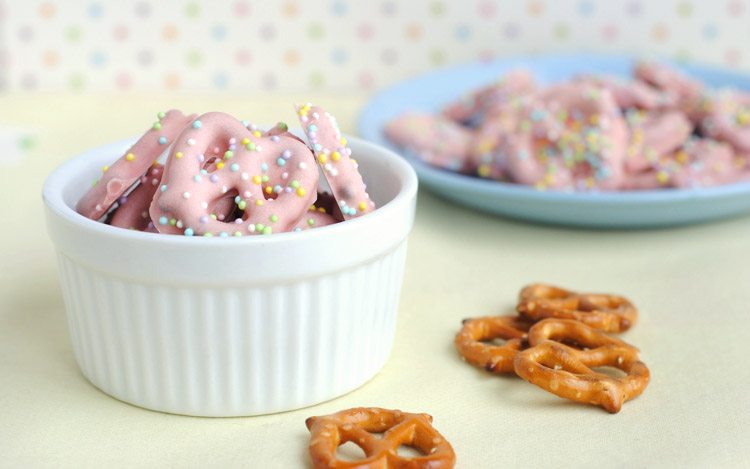 When it comes to Easter, you can never have too much pink. These snacks from Generations of Savings are not only easy to make, they're easy to eat two fistfuls of.
Krispy Easter Eggs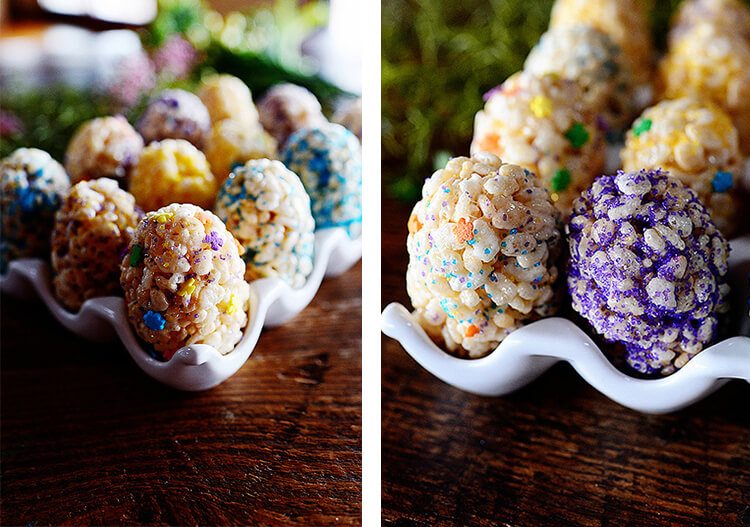 Grab all of the assorted sprinkles in your house and get to work on this recipe from The Pioneer Women. It's so simple — a familiar rice krispie treat, just shaped as eggs — but it's the perfect opportunity to bring a favorite dessert to the Easter table.
Cadbury Creme Egg Brownie Bombs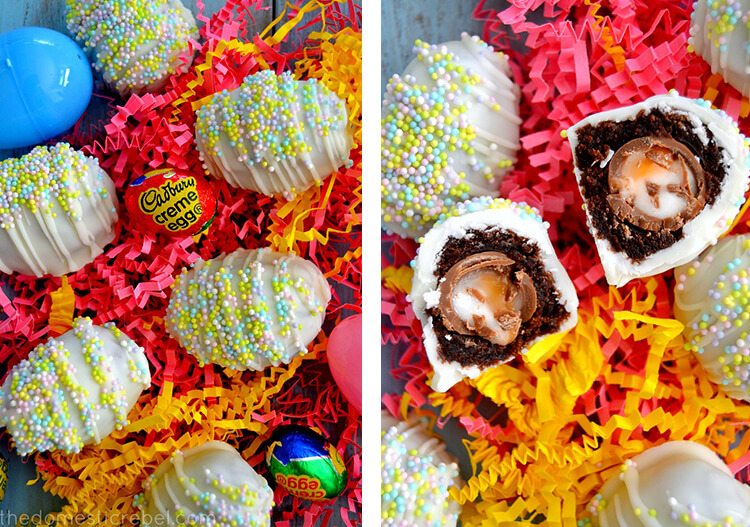 Sure, Cadbury Crème Eggs are delicious on their own. The Domestic Rebel takes you somewhere you never knew you could go with these traditional Easter candies. If you weren't sure what a "brownie bomb" was before you read this, you're in for a treat.
Easter Chick Oreo Pops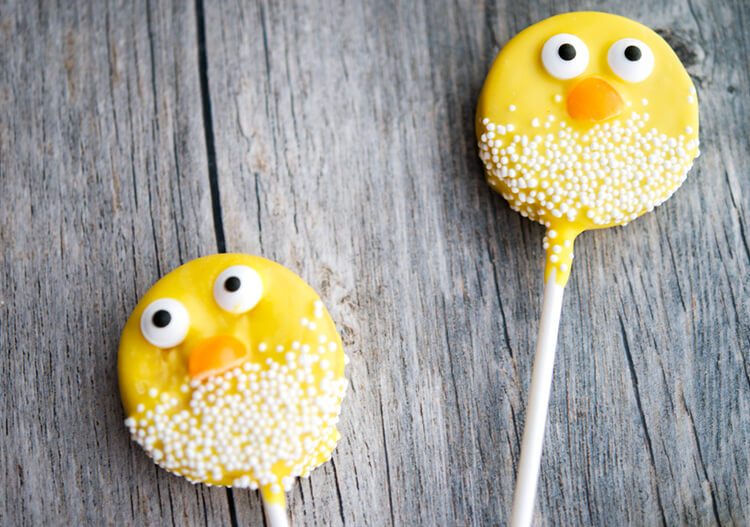 Oreos get an Easter makeover from Carrie's Experimental Kitchen in this sweet recipe. If you love making desserts that are too beautiful to eat, this is probably right up your alley.
Fruity Peeps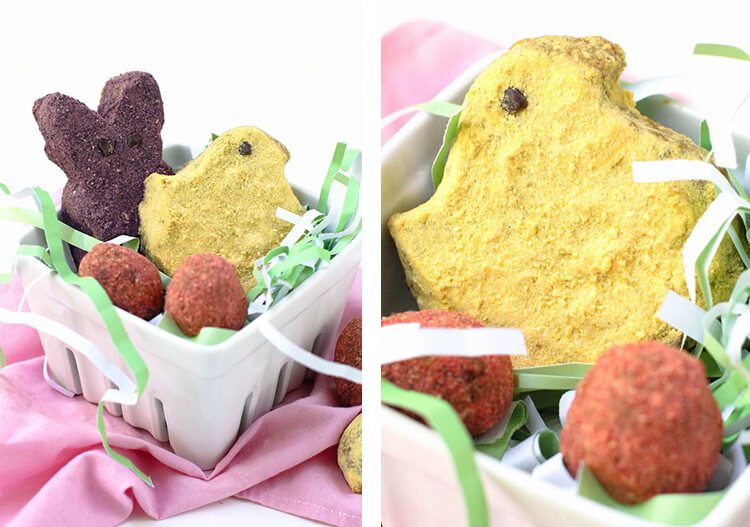 Peeps are an icon of Easter, but if you don't like marshmallows, Feasting on Fruit has you covered. These Peeps imposters are made out of dates, bananas, blueberries, and loads of other fruits for a healthier Easter dessert.
Carrot Easter Pudding Cups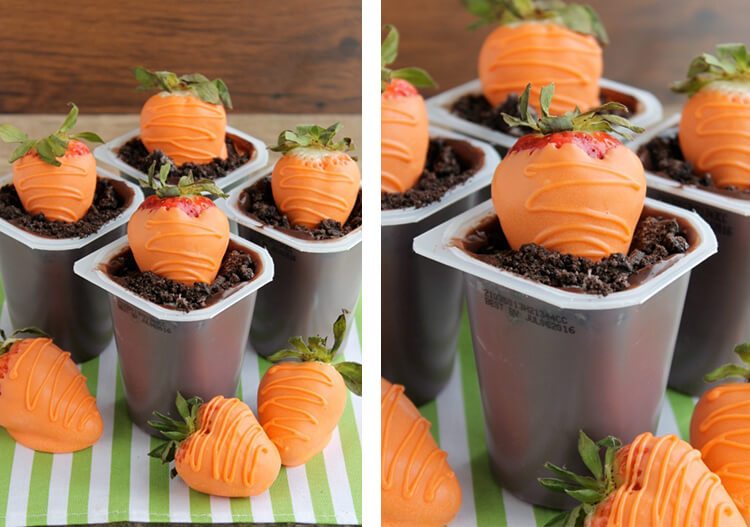 Nope, these aren't carrots in dirt. Dessert Now, Dinner Later gives us this great recipe that combines an orange candy-dipped strawberry with chocolate pudding and Oreo.
Easter Cereal Bars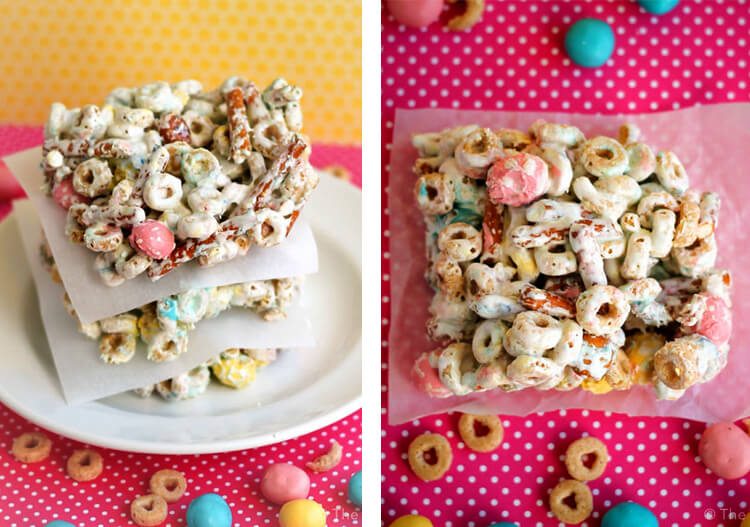 Cereal isn't just for breakfast anymore. At least, not according to Weary Chef. The crunch is all of the appeal for this snack.
What are some of your favorite Easter dessert traditions? Every year, we see new creations from creative cooks around the world. How will you transform an Easter dessert this year? Let us know by sharing your pictures on Facebook and Twitter. And if you're too busy to whip up your own sweets, check out our Easter gifts with readymade treats!